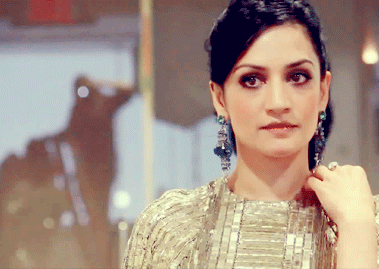 "

Some people don't deserve goodbyes, Miss Shea. With your fucking mouth, you're one of them.

"

— Chandra, before her intended execution of Manila, Tomorrow
Chandra MacPherson was a recurring antagonist in Eden Rising. She was the wife of Ed MacPherson. Chandra was wearing the pants in the relationship between herself and her husband, manipulating him to try and take over the dome from Séverine Bangalter so they could have power. Chandra was a cunning and ambitious woman who could put on a sweet and innocent demeanor, which made her an oft-dismissed, but dangerous, foe.
Pre-series
Edit
Not much is known about Chandra's life pre-apocalypse, other than she married United Nations supervisor Ed MacPherson.
Chandra was first seen at a gala to impress United Nations supervisors. Her disapproval of Séverine was made glaringly obvious, and was confirmed later that night when she and Ed had sex and Chandra demanded her husband to step up and take charge of the situation so he can get rid of Séverine and become the Director of Eden in her place.
Later, Chandra was approached by photojournalist Simon Boyle, who demanded Chandra to explain a note left at Manila Shea's residence, implicating someone named "MacPherson" doing something terrible. The note was very vague, and Simon asked Chandra if the note referred to her or husband. Chandra kicked Simon out of her suite. That same day, Chandra gave Sebastian, a dying quarantined patient, his last rites.
While doing so, Chandra manipulated Sebastian's devastated and emotionally unstable brother Eddie to go on a shooting rampage by blaming Séverine for Sebastian's death. She gave Eddie the keys to the armory where all of the guns are kept, and he stole them and went on his rampage. Meanwhile, Chandra went to the room where her husband was keeping Manila hostage. She raised her pistol at her, Manila whispered her final goodbyes, but before Chandra could pull the trigger, Gareth burst into the room and fired a shot that grazed Chandra's side.
As Gareth tended to Manila, Chandra fled the scene. She took the bomb that Manila had smuggled into Eden, and delivered it to the laboratories, where she asked them to decomission the bomb. Leigh followed her here, and as Chandra left, Leigh wrecked havoc inside and took the bomb for herself. Meanwhile, Chandra entered the greenhouse where she witnessed Eddie self-destructing. Taking matters into her own hands, Chandra attacked Séverine and the two fought. Chandra broke her ankle and Sev repeatedly smashed Chandra's face into the grates. As Chandra lie there dying, her zombified husband leapt up and took a chunk out of her face, feeding on Chandra, finally ending her for good.
Killed Victims
Edit
Appearances
Edit
Ad blocker interference detected!
Wikia is a free-to-use site that makes money from advertising. We have a modified experience for viewers using ad blockers

Wikia is not accessible if you've made further modifications. Remove the custom ad blocker rule(s) and the page will load as expected.