Lewis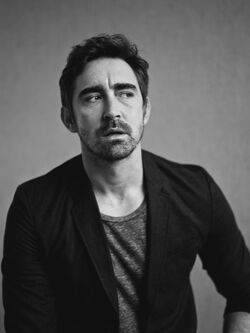 Lewis is a character in Say Goodbye to America: Scatter
Pre-Apocalypse
Edit
Nothing is known about Lewis's life before the outbreak
Post-Apocalypse
Edit
At some point, Lewis joined Gregory's group
Scatter Season 1
Edit
Lewis first appears with Gregory's militia in an attempt to attack the Target.  He is seen during the Massacre at the Target.  After running out of bullets, he tries to use a throwing knife, but to no avail.  He watches as Georgia is shot in the head by Warren Smith.  He flees into the woods with the other survivors
Lewis arrives back with the others after the attack at the Target and brings Gregory a bottle of whiskey. He is present when Sean Moreland fights and kills Avi
Season 2
Edit
"Wet Ribbon"
Edit
With Gregory and most of the 'A' Squad being gone, Lewis is left in charge of the camp. He comforts Stephanie Key alongside Kevin and Maine after her assault by Johnny and Richard. He takes Maine to confront the two men, where he learns the two men assaulted her because she is a lesbian. He allows Maine to take Max and Taz to the target to find Alex, Liam and Callum, but the men return without the others. He learns Stephanie was raped and accompanies the other men take Johnny and Richard to the fighting circle, which he officiates. He watches Richard nearly decapitate Johnny and then as Maine shoots the former in the head. As he attempts to talk to Maine, he is told to save it
"Veneno Para Las Hadas"
Edit
Coming Soon
"Trains"
Edit
Coming Soon
"Arriving Somewhere But Not Here"
Edit
Coming Soon
"Off the Map"
Edit
Coming Soon
Season 3
Edit
Coming Soon
Killed Victims
Edit
Numerous counts of zombies
Appearances
Edit
Season 1
Edit
Season 2
Edit
Wet Ribbon
Veneno Para Las Hadas
Trains
Arriving Somewhere but Not Here
Off the Map
Season 3
Edit
Originally, Lewis was planned to be killed off in Season 1, Episode 8, but the idea was scrapped
Lewis is the first character to be confirmed to appear in Season 3, where he will be moved up to the Main Cast
Ad blocker interference detected!
Wikia is a free-to-use site that makes money from advertising. We have a modified experience for viewers using ad blockers

Wikia is not accessible if you've made further modifications. Remove the custom ad blocker rule(s) and the page will load as expected.