Lulu is a character in Say Goodbye to America: Scatter
Lulu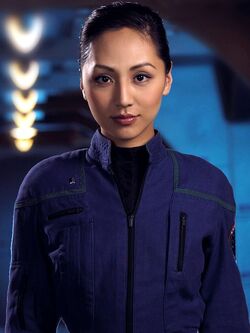 First seen
The Same Asylum as Before
Death
Stabbed by Fish West
Pre-Apocalypse
Edit
Nothing is known about Lulu's life before the outbreak
Post-Apocalypse
Edit
At some point, Lulu joined Gregory's group
Scatter Season 2
Edit
"The Same Asylum as Before"
Edit
Lulu is part of the group that goes to the mission to the mall. She steps out of the car with Spencer, Miles, Julian and Kenneth. Once inside, she joins Spencer and Brooks in the nail salon. She later saves Julian by killing an undead Kenneth before he bites the former
"Wet Ribbon"
Edit
Lulu later joins the rest of the 'B' Squad and takes weapons from Phillip, Todd, Fish and Timothy West. While distracted by gunshots, Lulu is stabbed in the gut by Fish. Without immediate attention, she bleeds out and dies
Killed Victims
Edit
Kenneth (Zombified)
Numerous counts of zombies
Killed By
Edit
After being distracted by gunfire, Lulu lets her guard down and is stabbed in the gut by Fish. She later bleeds out
Appearances
Edit
The Same Asylum as Before
Wet Ribbon
Ad blocker interference detected!
Wikia is a free-to-use site that makes money from advertising. We have a modified experience for viewers using ad blockers

Wikia is not accessible if you've made further modifications. Remove the custom ad blocker rule(s) and the page will load as expected.