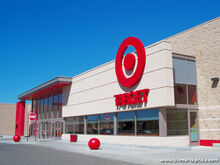 The Massacre at the Target is a battle between a few people from Apex and a small militia from Gregory's group. It takes place in Season 1, Episode 8 of Scatter, "Pain"
Preceding Events
Edit
A small group consisting of Leo, Otis, Meredith, Dex, Gary, Niklas and Judy scavenge the Target for supplies when they are attacked by Gregory's group and Judy is shot in the chest by Brooks. Niklas speaks out against Gregory and is taken captive while the other are allowed to go free
Leo, along with Dex and Jason track through the woods to find Niklas. Upon discovering him, Jason and Dex are held captive by three soldiers, led by Alex. After he leaves, Jason is killed by Reid and Maxwell, resulting in their deaths at the hands of Leo, who grabs Dex and flees on foot. He is pursued through the woods and kills two attackers, Elena and Bryce, before making his way back to the Target
"Assassination of Eric Dugan"
Edit
Right before Gregory is about to open fire on the people in the Target, he has his sniper, Lottie, shoot Eric in the chest. Before they can, open fire, however, his body is discovered and their cover is blown, beginning the Massacre at the Target
Combatants:
Edit
People from Apex:
Edit
Warren Smith (Leader)
Sylvester Nelson
Gregory's Militia:
Edit
Gregory Ames (Leader)
Deaths and Injuries:
Edit
Doug Santos (Injured; shot in the leg by an unknown gunman)
Gavin Foxx (Injured; shot in the leg by Reuben)
Tim (Dead; Shot in the chest by Lottie, put down before reanimation)
Norman Monroe (Dead; shot several times in the back by an unknown gunman, put down by Scott before reanimation)
Colin (Dead; shot by Scott repeatedly, put down after reanimation by Niklas)
Maria (Dead; shot by Warren, Lindsey and Reuben)
Georgia (Dead; shot in the head by Warren)
Kenzie (Dead; shot by Warren, Lindsey and Reuben)
Bill (Dead; shot by Doug Santos)
Unnamed Driver (Dead; shot by Maria and Kenzie)
Ad blocker interference detected!
Wikia is a free-to-use site that makes money from advertising. We have a modified experience for viewers using ad blockers

Wikia is not accessible if you've made further modifications. Remove the custom ad blocker rule(s) and the page will load as expected.