Paul is a character in Say Goodbye to America: Scatter
Paul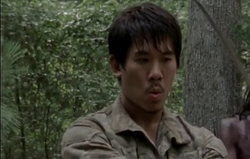 Portrayed by
Lawrence Kao
Pre-Apocalypse
Edit
Nothing is known about Paul's life before the outbreak
Post-Apocalypse
Edit
At some point, Paul joined the Apex community as a member of the construction crew
Scatter Season 1
Edit
Paul is first seen with Tim and Warren Smith talking to Ray about leaving to join Scott Cleary at the Target.
Paul appears with Warren and Tim after arriving at the Target talking to Phillip James, Leo, Otis, Dimitri Vanderbilt and Eric Dugan.
Paul is first seen arguing with Tim, Warren and Aaron Meyer about fortifications for the Target. He leaves to rescue Niklas with Leo, Aaron, Phillip, Dimitri, Tess, Meredith, Nathan and Gary Taylor. After witnessing Gary getting shot in the back, Paul turns his attention to a wounded Stefan and shoots him in the head. He later arrives back after the Massacre at the Target
Paul is seen leaving the Target with the others
Season 2
Edit
"Wet Ribbon"
Edit
Paul is with the others at the construction site when he and Doug Santos are introduced to Gavin Foxx
Paul is seen working at the construction site talking to Devin Nelson
"Veneno Para Las Hadas"
Edit
Coming soon
"Home Invasion"
Edit
Coming Soon
Killed Victims
Edit
Numerous counts of zombies
Appearances
Edit
Season 1
Edit
Season 2
Edit
Wet Ribbon
Once
Veneno Para Las Hadas
Home Invasion
Ad blocker interference detected!
Wikia is a free-to-use site that makes money from advertising. We have a modified experience for viewers using ad blockers

Wikia is not accessible if you've made further modifications. Remove the custom ad blocker rule(s) and the page will load as expected.