Ray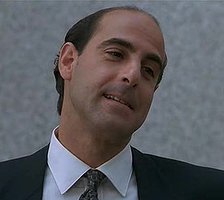 Portrayed by
Stanley Tucci
Ray is a character in Say Goodbye To America: Scatter
Pre-Apocalypse
Edit
Nothing is known about Ray's life before the outbreak
Post-Apocalypse
Edit
Early on, Ray joined the Apex community and became the leader of the Construction Crew
Scatter Season 1
Edit
Ray first appears with Warren, Paul and Tim after Scott calls him up on the walkie talkie and asks for the three men's help.  Ray is not willing to give them up and tells Scott to work his problems himself.  Afterwards, Warren, Paul and Tim leave the Construction Crew, with Ray telling Warren not to return for at least one week.
Ray is present during the service for Judy held in the church.  He is the first person to approach Jenny afterwards and becomes angry with her for sending Warren, Paul and Tim without his permission.  The two verbally spar over who the true leader is with Ray eventually leaving in a huff
Coming Soon
Killed Victims
Edit
Numerous counts of zombies
Appearances
Edit
Ad blocker interference detected!
Wikia is a free-to-use site that makes money from advertising. We have a modified experience for viewers using ad blockers

Wikia is not accessible if you've made further modifications. Remove the custom ad blocker rule(s) and the page will load as expected.