Ruben Eastview is a character in Say Goodbye to America: Scatter
Ruben Eastview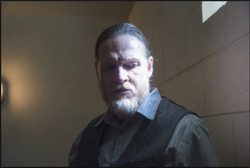 Pre-Apocalypse
Edit
Nothing is known about Ruben's life before the outbreak
Post-Apocalypse
Edit
At some point, Ruben joined the Apex community as a member of the construction crew
Scatter Season 1
Edit
Ruben is present during the Massacre at the Target, during which he shoots and kills Maria and Kenzie alongside Warren and Lindsay. He later shoots Gavin Foxx in the back of the leg to keep him from running. He later talks with Scott about Jenny and Ray's views on them leaving.
Ruben is seen with Leo, Dex, Sylvester, Doug and Taylor inside the Target when Niklas walks up to him and asks him to stay behind to complete Niklas's list. Later that evening, Ruben shoots and kills Liam and Callum before starting his car and waiting for Niklas to kill Alex
Season 2
Edit
"The Same Asylum as Before"
Edit
Ruben later arrives back at Apex with Niklas when Otis opens the gate. Ruben brings his car back to his house
"Wet Ribbon"
Edit
Ruben later appears with Warren, Scott, Gavin and Sean Moreland walking over to the construction area. He joins Ray and Scott in the former's tent to discuss Gavin and Sean's arrival
Killed Victims
Edit
Maria (alongside Lindsay and Warren)
Numerous counts of zombies
Appearances
Edit
Season 1
Edit
Season 2
Edit
The Same Asylum as Before
Wet Ribbon