Taylor Burns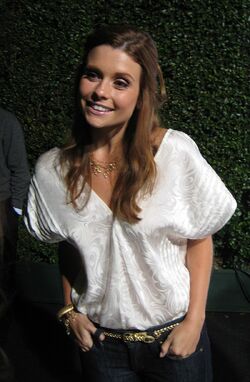 Portrayed by
Joanna Garcia
Taylor Burns is a character in Say Goodbye to America: Scatter
Pre-Apocalypse
Edit
Nothing is known about Taylor's life before the outbreak.  It is possible that she had some training in nursing or physical therapy
Post-Apocalypse
Edit
At some point, Taylor joined the Apex community
Scatter Season 1
Edit
Taylor first appears among the rescue crew to save Niklas.  She and Eric Dugan take first watch upon their arrival at the Target.  
Taylor appears talking with Leo about Dex and Jason.  She takes Dex by the hand and leads him back to rest and check for permanant damage.  She later appears after the Massacre at the Target, having stayed inside with Dex.  She is given the wounded Doug Santos and Gavin Foxx to check up on.  She later tells Leo that he needs to see Gavin's unconscious body to get his approval on her patching him up
Taylor walks out after the Massacre with Leo, Aaron and Niklas where the four put down the bodies to keep them from reanimating. She is uncomfortable putting down Tim, but ultimately does so
Season 2
Edit
Killed Victims
Edit
Tim (Before Reanimation)
Numerous counts of zombies
Appearances
Edit
Season 1
Edit
Fears
Gone (Mentioned Only)
Pain
Death
Season 2
Edit
Ad blocker interference detected!
Wikia is a free-to-use site that makes money from advertising. We have a modified experience for viewers using ad blockers

Wikia is not accessible if you've made further modifications. Remove the custom ad blocker rule(s) and the page will load as expected.