Tess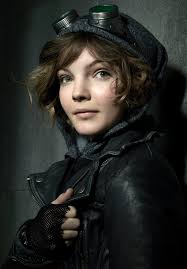 Age
Late teens to Early 20s
Relations
Mother (deceased) Father
Portrayed by
Camren Bicondova
Tess is a character in Say Goodbye to America: Scatter
Pre-Apocalypse
Edit
It is revealed that Tess did not have an easy life growing up and was constantly berated by her mother and ignored by her father.  She took to cigarettes at an early age and continues to smoke in the present
Post-Apocalypse
Edit
At some point, Tess joined the Apex community and started running the Laundromat
Scatter Season 1
Edit
Tess first appears delivering clean clothes to Todd and Phillip and asking if they will be at the party later that evening.  Although not shown, it is assumed she attends the party.
Tess stands on the brick wall next to the laundromat, having a smoke and bobbing her head to a song beat.  She sees Miranda coming towards her and tosses the girl a cigarette.  The pair talk about what's been going on in the community, before Miranda tricks Tess into revealing her feelings about Niklas.  Tess joins Leo 's rescue crew and walks with Meredith around the Target to scavenge more supplies.  
Tess and Meredith are scavenging through clothes and talk about why they joined the crew.  Tess lies and says she wanted to get out of the laundromat
Tess is first seen inside the Target sewing up her jacket.  She later splits off with Aaron and Meredith, and talks with the latter about Tess's crush on Niklas, before Tess brings up Meredith's feelings for Leo.  Although not physically present, she and Aaron are with Meredith when she sets off an explosion.  After the three return to the aftermath of the Massacre at the Target, she runs up to Niklas and nearly takes him down after he kills and undead Colin
"The Same Asylum as Before"
Edit
Coming Soon
Killed Victims
Edit
Numerous counts of zombies
Appearances
Edit
The Same Asylum as Before
The song in Tess's head in "Fears" is Alice in Chains's We Die Young
Tess (Camren Bicondova), along with Niklas (Thomas Brodie-Sangster) are the first two credited as appearing in Season 2 before the premiere.
Tess is credited under Co-Starring in Season 1, but is upgraded to Also Starring in Season 2, where she is credited as a Series Regular